Dermaplaning at The Wellness Clinic.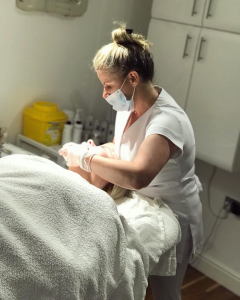 Our Skin Therapist, Jayne and Lianne offer this treatment at the Clinic.

How does Dermaplaning work?
Facial hairs can capture dead skin cells, oil and debris, which may cause your complexion to become dull and lifeless.
During the Dermaplaning procedure, we use a unique device with a very fine sterile blade to remove these hairs, along with the top layer of dead skin cells.
Dermablading minimizes pore blockage and encourages the production of collagen and elastin.
It can also eliminate several skin complaints and treat skin damaged by acne and bacterial infection.
A further benefit of Dermaplaning is that it increases the skin's ability to absorb active nutrients.
The result is rejuvenated skin that looks vibrant and healthy.
What to expect during your treatment.
At the start of the procedure, we cleanse the treated area and ensure everything is sterile.
We then carefully scrape the surface of the clean, dry skin with the specially-designed surgical scalpel.
The blade moves gently over the skin. While stretching the skin, we apply pressure evenly to avoid causing any damage to the skin's surface.
The procedure usually takes about 45 minutes and is not painful.
Aftercare and further treatments.
Dermablading needs little or no down time. But, to maximize results long-term, it's important to provide ongoing care for your skin.
As the procedure removes the top skin layer, the lower layers are more able to absorb moisturizers and other nutrients.
We recommend you continue to use facial moisturizers and other quality skin care products, including sunscreen with 30+ SPF, to reduce the chance of skin problems re-occurring.
Full Face with Hyla Copper & Zinc Mask – £85
Full Face with Jan Marini Peel – £130